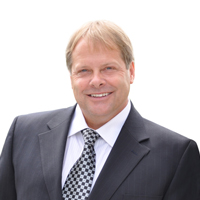 Mike Kerby
President
Mike Kerby, President of Secure Retirement Planners, Inc., has been working with Missouri retirees and pre-retirees for almost two decades. He has been assisting his clients in diversifying their retirement portfolios to help maximize potential income while minimizing future tax liability. He is dedicated to personalized service and has broad knowledge of investment products, income strategies and probate avoidance planning.
Mike's approach to working with clients is based on the principles of honesty, integrity and loyalty. He spends time with each individual or business owner demonstrating how the advantages of diligence in retirement planning can result in a comfortable lifestyle and financial security. He helps clients create solutions to reduce debt and create income for life while maintaining liquidity of their assets.
Mike is a familiar figure in his community, sponsoring various events and supporting local charities. He is a regular contributor to his local newspaper and radio programs in the area. He has raised four children in the area and for the last 20 years they have called Warsaw home.
---
STRATEGIC ALLIANCES
Wayne Schmidt, CFA®
Chief Investment Officer of Gradient Investments, LLC
In October 2008, Wayne Schmidt joined Gradient Investments, LLC to serve as Chief Investment Officer. Boasting over 26 years in the financial industry, Wayne brings invaluable institutional experience and in-depth knowledge of the private client market to Gradient Investments, and offers a global investment management perspective.
Wayne is an essential and direct resource for affiliated investment advisors and their clients. He provides vast wisdom, knowledge and tools to help investment advisors both grow their practices and their clients' assets.
In a nationwide search that included acquisition considerations, AXA Investment Managers, a subsidiary of the European insurance giant AXA Group, handpicked Wayne to build their U.S. investment grade fixed income capabilities and to lead a seasoned portfolio team located in Saint Paul.
During his tenure at AXA Investment Managers, Wayne served as senior portfolio manager for the U.S. investment grade fixed income team. As the lead portfolio manager, he managed $9.5 billion of fixed income assets with a variety of mandates ranging from aggregate, corporate and government bond portfolios.
Before joining AXA Investment Managers, Wayne dedicated over 20 years to Minnesota Life and its' $14 billion investment arm, Advantus Capital Management. As their portfolio manager, he managed a variety of high-grade funds as part of Advantus's $1.8 billion Total Return Product for institutional and retail clients. He also served as the lead portfolio manager of the Advantus Bond Fund and the co-portfolio manager of the Advantus Spectrum Fund.
Wayne earned his Master of Business Administration in Finance from the University of Minnesota and a Bachelor of Science from Cornell University. He is a Chartered Financial Analyst® and a member of The Chartered Financial Analyst Institute and the Twin Cities Society of Security Analysts.
Over the years, Wayne has been quoted on the global economy in numerous nationally and internationally recognized investment publications such as: Bloomberg, Pension & Investments, Reuters, The Los Angeles Times, Financial Week (2008 Neal Award Winner), Asia Times, InvestorVillage, Safehaven, SFO, Credit Investment News and RGE Monitor (Nouriel Roubini's Global EconoMonitorinvestment). He has also provided market insights on Bloomberg radio and television.
Wayne's love of Minnesota is Gradient Investments' great fortune, as he declined to relocate with AXA Investment Managers following their strategic decision to consolidate function into a high-yield operation in Greenwich, Connecticut.
Michael Binger, CFA®
Senior Portfolio Manager of Gradient Investments, LLC
Michael Binger, CFA®, serves as the senior portfolio manager for Gradient Investments, LLC. Michael brings over 24 years of institutional equity investment experience to Gradient Investments and its affiliated advisors and clients. He has extensive experience working directly with financial advisors designing and actively managing portfolios. Michael has successfully invested in numerous market and economic cycles giving him a level and depth of experience that is rare in this industry.
Michael started his investment career in Minneapolis with Lutheran Brotherhood in 1987 and gained experience managing assets in a variety of asset classes including convertible bonds, small cap equities and large cap equities. When Lutheran Brotherhood and Aid Association for Lutherans merged in 2001 to become Thrivent Financial, Michael was selected to work as the senior portfolio manager on the Large Cap Growth Team and Large Cap Alpha Team managing over $3 billion in assets. As the senior portfolio manager, he developed and oversaw the tactical investment strategies utilized within mutual funds, variable annuities, pension funds and insurance company products. These investment processes included proprietary portfolio construction strategies, security selection parameters and volatility controlled umbrellas.
Michael graduated from the University of Minnesota earning a Bachelor of Science in Business Administration-Finance. He graduated with honors and was the University of Minnesota's "Wall Street Journal Award Winner." Michael is a CFA® and a member of The Chartered Financial Analyst Institute and the Twin Cities Society of Security Analysts.
Michael's media highlights include providing market insight on CNBC, Bloomberg TV and Bloomberg Radio. He has also been quoted in The Wall Street Journal, Barron's, Smart Money, Reuters, Business Week and numerous other local, national and global investment publications.